Chicago
7 Best Lincoln Park Bars to Experience Chicago NightLife
It's nighttime in the city. The sun has gone down, and it's getting dark outside. But there is still plenty of life to be found on the streets of Lincoln Park, with bars serving up a variety of drinks and styles to suit your mood this evening. 
Lincoln Park is the perfect place for a night out. It has everything from cafes, to bars, to restaurants, to music venues, and more. So whether you're looking for an excellent spot with friends or want some good food while checking out live music, it is the right choice for you.
With an immense variety of bars and restaurants to choose from, it's hard to decide which one is best. Therefore, we are sharing our top 9 picks for the best Lincoln Park bars that are sure to make your night unforgettable!
1
The Arrogant Frog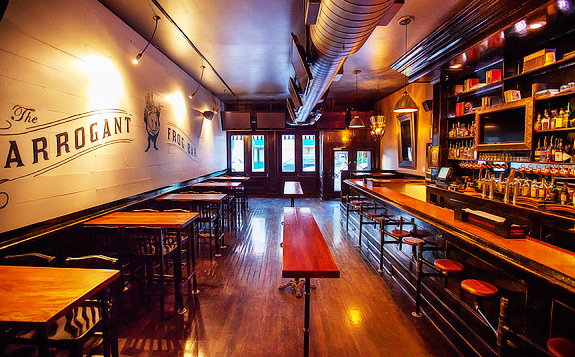 The Arrogant Frog is the perfect place for any local beer enthusiast looking to enjoy a pint or two while watching sports and playing games. Not only does this pub have 24 different beers on tap, but it also has multiple televisions behind the bar showing you Cubs, Blackhawks as well as Bears games!
This bar will prove to be a pleasant spot for you to chat with Chigaons, catch the game as well as shoot the pool. Moreover, it has a lot to offer its visitors, from plenty of personalities to sports banter from both bar staff and patrons. The highlights of the week are the Wednesday Night Jazz Series and an excellent Bloody Mary Bar on Sunday Afternoons. So, what are you waiting for? Go, witness the authentic Chicago style via this bar!
Location: 1365 West Fullerton Avenue, Lincoln Park, Chicago, Illinois, 60614, USA
Contact: +17732489119
2
Beermiscuous – Best Lincoln Park Bar

Whether you are a beer nerd or a cafe lover, Beermiscuous has something for everyone. From the ambiance of this bar to the games and everything else in between, there is sure to be one thing that catches your attention here! You will not want to come back from this pub empty-handed.
Besides, they offer local beers on tap as well as coolers lining every wall, so don't worry about running out of options! Not only do they have their selection, but when it comes time for someone who's feeling critical (or indecisive), all drinks can be taken away too with just an additional small charge.
This place would not disappoint anyone. It also offers you seating on large cozy sofas, fireplaces to give you relaxed cafe vibes.
Location: 2812 North Lincoln Avenue, Lake View, Chicago, Illinois, 60657, USA
Contact: +17736986824

3
The Barrelhouse Flat
Based in North Lincoln Avenue, The Barrelhouse Flat is one of the best bars in Lincoln Park. Chicagoans are known to have a passion for craft cocktails. Therefore, this place is considered one of the city's most lauded neighborhood spots when it comes to the art of mixology. From drinks to tasty dishes, this bar has a lot to offer. 
Also, it is known to serve a list of up to seventy libations, including classics such as delicious French 75 and quirkier signature sips like punchy El Diablo. However, the tasty dishes served are inspired by the tempting European selection. This bar is a go-to place in Chicago for cocktail lovers and the ones who enjoy eating and drinks.
Location: 2624 North Lincoln Avenue, Sheffield & DePaul, Chicago, Illinois, 60614, USA
Contact: +17738570421

You might also wish to explore the Radio Room Chicago
4
Local Option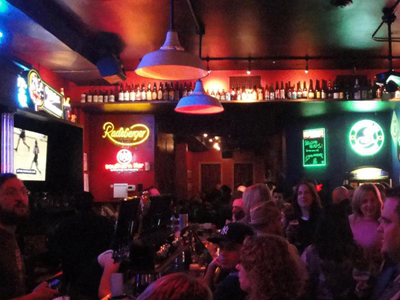 The Local Option is a bar with an air of home to it, apparently one of the absolute must-visit bars in Lincoln Park for beer lovers. There is a wide menu of beers and drinks to choose from – it's perfect for anyone looking to explore their taste buds with something new. They typically embrace unconventional but delicious styles.
They even offer an impressive selection of bottles (and draft) if you're aiming more towards tradition but want some options! Plus, they've got a great ambiance. So no matter what time your night starts or ends, this bar will be just as good during any hour in between. Undoubtedly, it'll keep you fresh and energized throughout, too, thanks to their awesome metal soundtrack playing all night long.
Besides, they notify about their weekly rotations of drafts on their website. 
Location: 1102 West Webster Avenue, Sheffield & DePaul, Chicago, Illinois, 60614, USA
Contact: +17733482008

5
The J. Parker

It is not surprising that The J. Parker has become a must-visit destination for the drinkers who look forward to an exciting experience. It is considered a perfect space for a pre-dinner cocktail, a night on the town, as well as for private events and parties. However, it is a bar and a rooftop restaurant that allows you to dine in or takeaway. 
The J. Parker is on the 13th floor of Hotel Lincoln, from where you can enjoy the spectacular skyline of Chicago. In addition, the rooftop will enable you to enjoy the water views of the city. Colossal sitting space is provided, which offers around 140 outside seats and about 55 seats inside. Apart from this, the J. Parker offers handcrafted cocktails, a stylish wine list, and a light new American menu. 
Location: 1816 North Clark Street, Old Town Triangle, Chicago, Illinois, 60614, USA
Contact: +13122544747

Do you wonder why Chicago is known as the Windy City. Read to know the answer
6
Compass Bar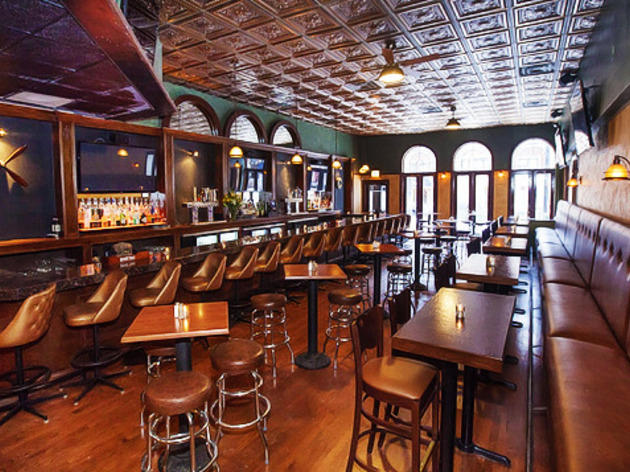 Chicagoans really take the patio season exceptionally seriously as the winters run pretty long here. Moreover, it makes the people opt for Al Fresco during the warmer months as much as possible. Compass Bar completely embraces this Chicago character as it offers a good-size patio and beer-centric menu. 
The 180 bottles, 20 draft options, and wood-fired pizzas are enough to make your evenings happening. Compass Bar is also known for its cozy interior. Visitors love to spend their colder days and nights in the warmth of this bar. The bar offers compass-themed Tavern features and also serves cocktails. Besides, it is widely known for serving crafted beers.
Location: 433 West Diversey Parkway, Lincoln Park, Chicago, Illinois, 60614, USA
Contact: +17732483230

7
Rose's Lounge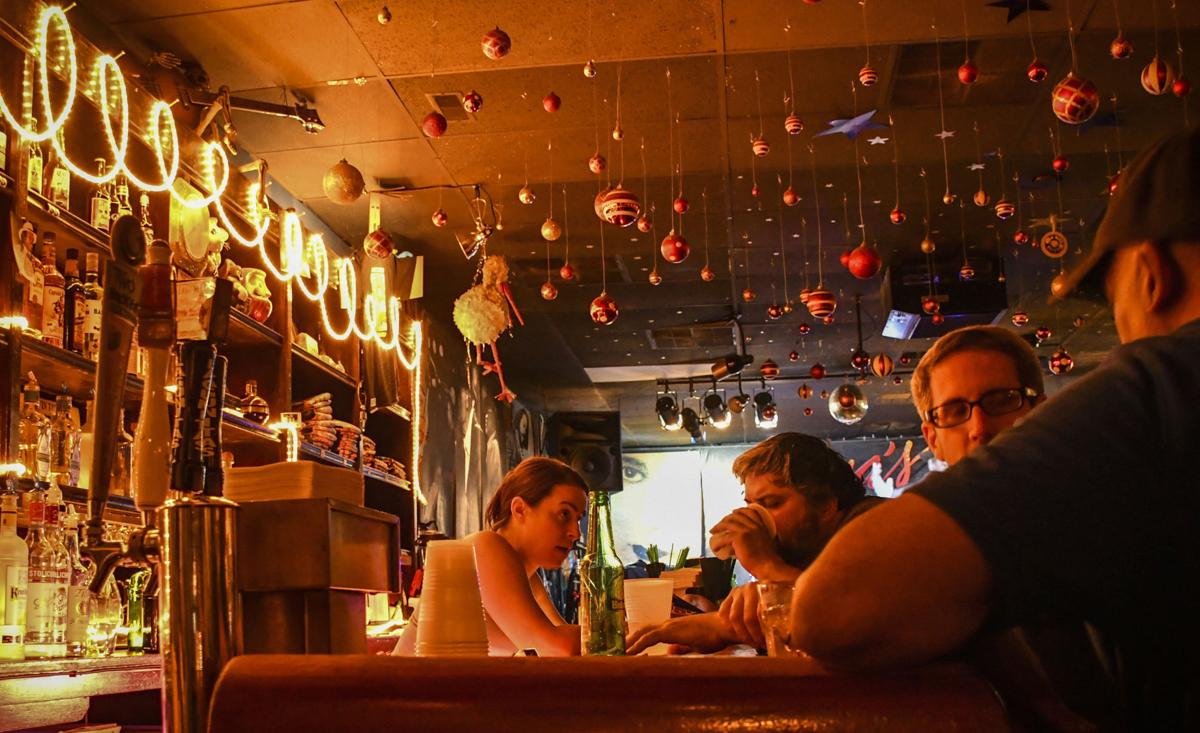 This old-style bar is yet another bar that tops the list of the best Lincoln Park Bars. The ambiance of this bar is based upon the retro theme, where you get to learn about the ancient culture and traditions of the city. The reason why people prefer to visit this bar is that it offers draft beer on tap. 
Apart from this, there is a pool as well as a jukebox that promotes hanging out. The staff here is super friendly. They allow you to get your food or order from any other restaurant. Therefore, you are all free to make your choices for drinks as well as food. The visitors describe it as "grandma's basement" as it gives a feel of the 1980's basement. Many people first get attracted towards the signboard and then the atmosphere of this bar.
Location: 2656 N Lincoln Ave, Chicago, IL 60614, United States
Contact: +1 773-327-4000

8
Delilah's (Best Lincoln Park Bars)
For the best live experience without actually going to a concert, Delilah's Rock Bar is your spot. Tucked away in an alleyway, this hidden gem has some of our favorite tunes playing on their D.J. every day and night!
Well, being one of the oldest bars in Lincoln Park, serving every day since 1993, there is no compromise with the quality of services offered here. It is widely known to provide around 300 varieties of whiskey along with movie nights. Apart from this, this bar also hosts regular film screenings, art openings, and beer tastings.
Location:  2771 N Lincoln Ave, Chicago, IL 60614, United States
Contact: +1 773-472-2771

9
The Red Lion Pub
The Red Lion Pub is widely known as "a place to talk about ideas." There is an open-air dining room especially for summers, where you can enjoy your drinks and the cool breeze. To add to your comfort, it provides three roaring fireplaces to keep you cozy all the time in the winter.
Apart from this, there is a private balcony room for groups of 10-20 people. You will get ghost tales and enough history to fill an encyclopedia. Moreover, the pub offers 14 unique drafts, a locally sourced delicious menu, bourbons & ryes, as well as a wide selection of single malts. 
The bottom line, it offers something for everyone, no matter what your taste maybe!
Location: 2446 N Lincoln Ave, Chicago, IL 60614, United States
Contact: +1 773-883-242

Chicago is best known for its scenic and thrilling nightlife, and there are plenty of bars in Lincoln Park to experience this. So, whether you're looking to show up with a group of friends or want an upscale spot where you can chat with your sweetheart over drinks, this neighborhood has got something for everyone.
So, pick a place, call your friends, and capture some beautiful moments over those delicious margaritas or shots, maybe!