Chicago
Taste the Best Wings in Chicago at These Fine Restaurants
When you dream of eating chicken wings, what comes to mind? Something juicy, crispy, and a little spicy, isn't it? Chicago has ample places to satisfy your heart and taste buds if you desire to savor some of the sauciest, tangiest, and most succulent wings. Dine-in or get some take-out but don't miss out on these top-notch places that serve up some of the best wings in Chicago.
When it comes to chicken wings, there are a couple of ways the flappers can be enjoyed. Moreover, the biggest dilemma is when the question arises 'which restaurant should we eat at?' No worries, this list has some of the top restaurants that dish out the best chicken wings in Chicago.
1
Great Sea Restaurant
This Chinese restaurant has an extensive menu that is incredibly tasty. Great Sea Restaurant is famous for serving the best lollipop wings in Chicago. Their chicken lollipop wings will make you want to come back every time you are craving chicken wings. The chefs at Great Sea have perfected their flavors. Moreover, you can choose your heat preferences, whether you like mild, medium, or spicy wings. 
Also, if you aren't a fan of spicy foods, you will not be compromising on any of the flavors, as the chicken is seasoned beautifully. For decades, they have been serving mouthwatering wings, and over the years, have gathered a cult following. Besides, the wings are just an appetizer; explore their menu and discover your other favorites. 
Address: 3253 West Lawrence Avenue Chicago, IL 60625
Contact: (773) 478-9129
2
Crisp (Best Wings in Chicago, with a twist ) 
When talking about the best wings in Chicago, Crisp restaurant can't be left off the list. The restaurant is mainly known for introducing Korean-style wings. And indeed, Chicagoans have developed a love for them. The Korean-style wings 'Seoul Sassy' are a complete satisfaction for that rumbling tummy. Besides, chicken wings are a family recipe that has been passed down through generations. 
Lucky Chicagoans have the privilege of at least getting a taste of this secret family recipe. Furthermore, the wings are prepared in a subtle sauce with ginger, soy, garlic, and other spices. The best part is, the wings are neither sticky nor spicy. They are perfect. Are you drooling yet? If yes, then rush to Crisp and order these finger-licking Seoul Sassy wings.
Address: 2940 N. Broadway, Chicago, IL 60657
Contact: 773-697-7610 
3
Landbirds
Landbirds restaurant is a cozy little counter-service spot. They are known for serving the best wings in Chicago. Their Korean lollipop wings are a perfect blend of sweet and spicy. Moreover, you can choose the heat level: mild, medium, tiger, and spicy tiger. Also, the restaurant is BYOB (bring your bottle) but keep in mind that the dining space is limited.
 The deep-fried chicken wings are tossed in various sauces, and you can opt for any one of your likings. Moreso, if you choose super spicy, then your Korean-style lollipop will be served with rice on the side; because, let's be honest, that spice sauce is addictive, and you need to finish every last bit of it. So no more waiting around; taste the best spicy Korean lollipop wings in town.
Address: 2532 N Ave, Chicago, IL 60647
Contact: (773) 697-7107 
4
Beck's Chicago
Beck's is the ultimate spot for your friends and family gatherings to grab a bite. The owner of Toons Bar and Grill opened Beck's Chicago. They are also famous for their buffalo-style wings that are perfectly deep-fried and sauteed in a thick sauce. In the end, they are garnished with some coriander for a bright and colorful finish. 
Beck's Chicago has complete bar services with dining on the outdoor patio apart from finger-licking buffalo wings. In short, it is the perfect place to enjoy your wings. Besides the flavor, you can customize the spiciness of the dish as per your preferences. Rest assured, the quality of the taste and the crispiness will not be compromised.
Address: 2201 North Clybourn Avenue, Chicago, Illinois 60614
Contact: 773-661-1573 
5
The Fifty/50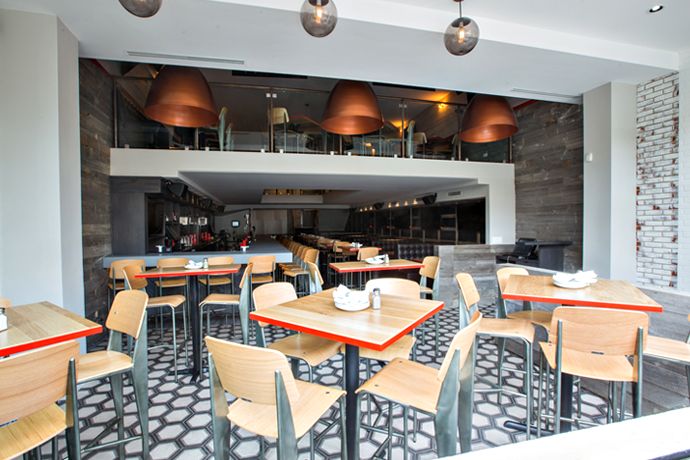 This sports bar is a great place to watch a match or catch a show with your gang. The Fifty/50 stretches across three floors with two bars and several TVs. You and your friends can order their jumbo chicken wings, either fried or applewood smoked. Both the styles are best sellers as they have a coating of spicy, garlic, barbecue sauce. You can order the wings bone-in or boneless. 
Their hot sauce has an added kick as they roast a blend of four different hot peppers to achieve that level of heat. Also, the wings are served with side ranch to balance out the spiciness of the chicken wings. Fifty/50 has an elaborate variety of wings because they are all about the chicken wings. However, their OB Buffalo remains a crowd favorite. 
Address: 2047 W Division St, Chicago, IL 60622
Contact: (773) 489-5050
6
Chiya Chai Cafe (Best Wings in Chicago, Asian Fusion)
Well, you might be wondering why Chiya Chai Cafe is mentioned on this list while they are best known for teas in Chicago? However, Chiya Chai Cafe is also known for serving some delicious Nepalese-Indian dishes. If that wasn't surprising enough: you will also find 'Hot Curry Wings' if you go through their menu. Now that's a plate of chicken wings you want to try if you are bored of the traditional ones.
The hot curry wings are crispy, tossed in a thick curry sauce, and served with lime and honey wedge to balance the heat. You can also get some hot sauce on the side if you prefer. Apart from being famous for tea and Nepalese-Indian food, Hot curry wings are their bestseller at a very reasonable price. 
Address: 2770 N Milwaukee Ave, Chicago, Illinois 60647
Contact: +1 773-360-7541
7
HaiSous Vietnamese Kitchen
HaiSous Vietnamese Kitchen serves some of the best wings in Chicago. They have perfected the crispy exterior down to a science and serve their best seller on the bed of rice that makes it a complete meal. The wings have a coating of sticky glaze, sesame seed sprinkles, and green chili toppings. 
The aroma of herbs and spices makes the wings even more tempting. However, they choose not to serve a dipping sauce so that you can savor the crispiness of the chicken wings in contrast with the rice. Apart from dishing out some of the best chicken wings in Chicago, HaiSous Vietnamese Kitchen also serves other tempting dishes on its menu.  
Address: 1800 S Carpenter St, Chicago, IL 60608
Contact: (312) 702-1303 
8
Bonchon
Bonchon is located in Chinatown and is recognized for serving some of the best wings in Chicago. This restaurant is a Korean-style fried chicken chain that features chicken wings coated with a soy sauce coating and topped with seasonings. The wings are not 'knock your socks off' level spicy, instead of a pure trip to flavor town.
Moreover, if you want, you can customize your wings with different flavors like hot spicy, sweet crunch, or half and a half (mix of spicy and sweet taste). As tasty as their chicken wings are, you should grab a bite of their takoyaki, which is fried octopus balls. They are the second most ordered dish at this joint. 
Location1: 2163 S Chinatown Place, Chicago, IL 60616
Location2: 1732 W. Division St., Chicago, IL 60622
Contact: (312) 877-5822 
If that hasn't got you drilling yet, I don't know what will. These restaurants dish out the best chicken wings that are easy to chew down with friends. Or else when you are in the mood for some delicious finger food. We hope this list of the best wings in Chicago will help you find your new favorite spot for the most delicious wings in town.
In the mood for some fried chicken? Check out our list of the Best Fried Chicken in Chicago.